Cruise Destination
The Queen Mary 2 is the Height of Culture
There are so many enriching activities on the Queen Mary 2 — from the ordinary to the extraordinary — including the only planetarium at sea, ever. You can hear renowned speakers discuss their favorite subjects, take acting classes, or enjoy amazing dance shows and multimedia productions in the theater while the kids are in the nursery or having fun in one of the special children's programs.

Love dancing, or want to learn? You can take lessons and release your inner queen or king at one of the Royal Night theme balls aboard the Queen Mary 2. You can also simply cut the rug to tunes from the '60 – '80s at G32, the ship's rockin' nightclub. Love to read? At 8,000 books and magazines, you'll never run out of material, as this ship also has the largest library at sea. Shopping aboard the ship is far more advanced than other fleet. Here, you'll find brands like Harrod's and H. Stern among an impressive art gallery and bookstore.

If you love vino, you're in luck. The Queen Mary 2 boasts one of the largest wine collections at sea. In fact, you can even take seminars, tutored wine classes, and sommelier-led lunches to learn more about your favorite varietals and vintages. When you get hungry, you have a staggering amount of options for every type of palate and mood — from pubs to lounges to formal dining. Additionally, you can satisfy your cravings for effortlessly blended coffee and chocolate at Sir Samuel's.
Entertainment & Attractions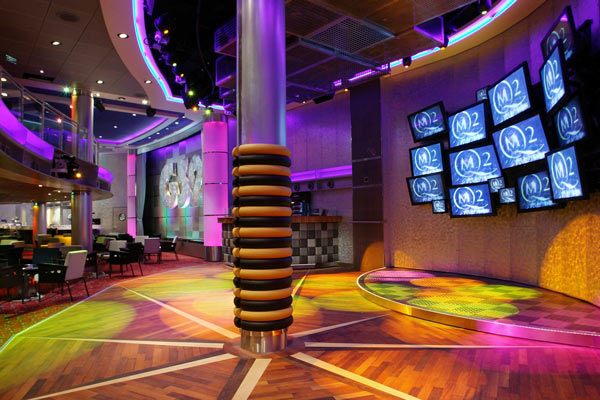 The Commodore Club
Chart Room
Veuve Clicquot Champagne Bar
Queens Room
The Golden Lion Pub
Winter Garden
Empire Casino
Movies On Board
Pianist
Jazz
String Quartet
Royal Court Theatre
Royal Night Theme Balls
Nightclub G32
The Commodore Club
The Commodore Club provides magnificent views across the ocean or your delightful port-of-call for that day. Sink into leather chairs or sofas and relax while enjoying a delicious martini, cocktail, or whatever takes your fancy. This is a perfect location to watch the world go by during the day, or enjoy a post-dinner drink while listening to the mellow sounds of a pianist or singer in the evening.
Chart Room
The elegant Chart Room with its maritime displays and nautically themed decor provides the perfect setting for your pre- or post-dinner refreshments. Order your favorite cocktail from the fabulous drinks menu while gentle jazz music provides the background to your pre-dinner conversations.
Veuve Clicquot Champagne Bar
If you fancy a glass of bubbly before taking your table for dinner then the Veuve Clicquot Champagne Bar overlooking the Grand Lobby is the perfect location. Guests may choose from among seven different Veuve Clicquot Champagnes, served by the bottle or the glass.
Queens Room
Here is your opportunity to foxtrot in the largest ballroom at sea. There is no better place to hone your dancing skills than under the dramatic high ceiling with its beautiful crystal chandeliers.
The Golden Lion Pub
Darts, karaoke, live sports, and ale – everything you'd expect of an authentic English pub. There's even a traditional pub lunch served every day, with classic favorites such as fish and chips and cottage pie.
Winter Garden
London's famous 'Kew Gardens' is the inspiration for this quiet lounge themed on an English country garden. A unique indoor water sculpture and lush greenery brings the outdoors inside. Sip a mimosa while you enjoy the early afternoon art auction, or meet up with friends for an evening of drinks and soft piano music.
Empire Casino
This elegant casino will set your heart racing as you spin the roulette wheel, play the slots, or try your hand at blackjack. If you are not sure how to play then take part in our complimentary gaming lessons.
Movies On Board
Enjoy a first-run feature each afternoon and evening in Illuminations. You'll also find a selection of movies throughout the day on your stateroom television.
Pianist
The Commodore Club welcomes you each evening with soft relaxing music from the beautiful ivory keys played by Queen Mary 2's talented resident pianist.
Jazz
Relax to the sultry sounds of the Jazz band in the Chart Room while you savor pre-dinner canapés and aperitifs.
String Quartet
The string quartet is the perfect accompaniment to white-gloved afternoon tea in the Queens Room and also sets the tone for the sparkling Royal Night Theme Balls.
Royal Court Theatre
Watch lavish musicals and unforgettable high-tech productions performed by the Cunard Royal Dancers and Singers in the elegant two-deck 1,000 seat Royal Court Theatre.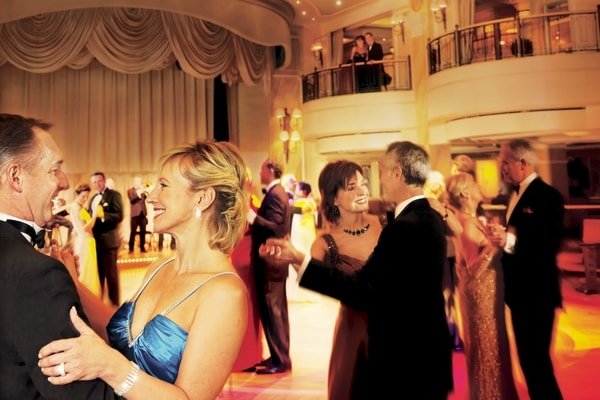 Royal Night Theme Balls
Royal night themed balls in the magnificent Queens Room Ballroom are your chance to don your formal dancing attire and take to the floor in a sea of glittering ball gowns and tuxedos accompanied by the sounds of the marvelous orchestra.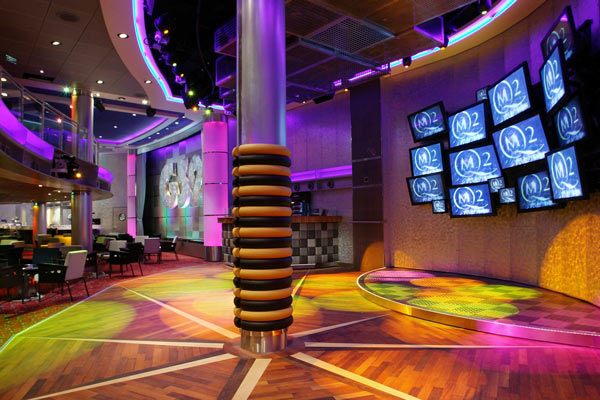 Nightclub G32
Dance the night away to the sounds of the resident party band and DJ in the fabulous dual-level nightclub. Enjoy popular themed nights from the Sixties, Seventies, and Eighties, such as Saturday Night Fever and Shake, Rattle, and Roll.
Other Features
Clarendon Fine Art
Maritime Quest
Book Shop
Mayfair Shops
Golf Simulators
Deck Sports
Sports Court
Canyon Ranch SpaClub
Pools
Gymnasium
Fitness Classes
Illuminations
Library
Clarendon Fine Art
Clarendon Fine Art specializes in British and international contemporary painting and sculpture, and has an international reputation for numerous leading artists working in a wide variety of styles and genres.
Maritime Quest
Recall ocean travel's golden heyday at this unique exhibition located throughout the ship's corridors and stairwells. Unveil Cunard Line's proud history from Samuel Cunard's first venture across the Atlantic in 1840, to the building of Queen Mary 2.
Book Shop
Shop at the beautiful bookshop and souvenir shop specializing in nautical literature, posters, postcards, collectibles, and memorabilia.
Mayfair Shops
Enjoy extraordinary shopping from top boutiques and brands such as Harrods and H.Stern, in addition to exquisite jewelery, high fashion, and further voyage souvenirs.
Golf Simulators
For those with a passion for golf, a 'closest to the pin' competition on the state-of-the art golf simulator, with its 51 golf courses to choose from, is a must.
Deck Sports
Master the traditional nautical games of shuffleboard and deck quoits. Challenge friends to a game or join in one of the tournaments advertised in the Daily Program.
Sports Court
Get your heart racing with a 'thwack'. Sports enthusiasts can enjoy an energetic game of tennis on the courts on deck 13.
Canyon Ranch SpaClub
Enjoy the ultimate in pampering at the exquisite on board Canyon Ranch SpaClub®. Indulge in signature massages, treatments, and facials from the classic Canyon Stone Massage or Rasul Ceremony, to Ayurvedic or Thai treatments.
Pools
There are five pools, including the Terrace Pool, The Minnows Pool especially for children, the Sun Deck Splash Pool, and the Pavilion Pool which features a retractable dome.
Gymnasium
The Fitness Center has views out forward to the covered promenade deck. Open from 6am, feel free to run the treadmill, take to the bikes, or try the step machines all before a hearty and well-earned breakfast.
Fitness Classes
Choose from a range of activities, from relaxing Yoga and Pilates sessions, to more energetic 'Funk Aerobics' and Spinning classes.
Illuminations
Take a virtual ride into outer space, view the stars and other visual spectacles, or take a course on celestial navigation in Illuminations, Queen Mary 2's full-scale Planetarium and the only Planetarium at sea! Each day sees a new show to tantalize your imagination.
Library
The quality and range of literature available in this beautiful room magnifies the stunning views over the bow. Linger over more than 8,000 books in this, the largest library at sea.
Cruise Lines
Jul 17
Aug 17
Sep 17
Oct 17
Nov 17
Dec 17
Jan 18
Feb 18
Mar 18
Apr 18
May 18
Jun 18